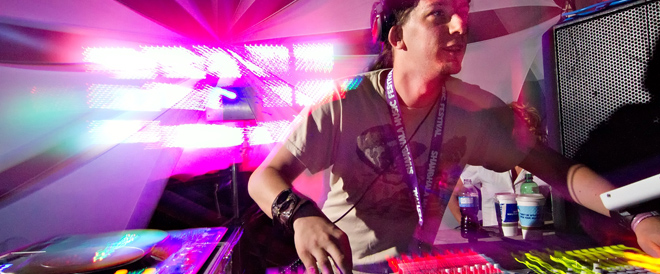 With a flair for being a bit off in left field Chris Komus aka Lo Progression balances two vastly eclectic projects with finesse. Chris Komus's self-titled project hones in on the crunchiness of the glitchhop / dubstep / brokenbeats / bass sounds, driven by creamy yet gritty spaced-out basslines, eccentric melodies, and intricate production chock full of glitchy edits and esoteric samples. the Lo Progression project diverges into the realm of bouncy progressive psytrance with groovy rubbery and rolling basslines, intertwined with dark melancholic melodies, ghostly pads, and a mood of enigma. Blending between genres, every track is cinematic like a score to an elaborate story, with orchestral elements and symphonic builds intertwined with futuristic basslines.
Chris Komus just released a second EP with Enig'matik Records,"Cordyceps EP" that hit #2 on the top Monthly charts on Addictech, with a front page featured release, and peaked at #27 on the Beatport Glitch Hop Releases chart. He also collaborated with Mr. Bill on his wildly successful Collaborative Endeavor series. With a successful first release on Adapted Records, Chris Komus's "Laurentian Plateau" hit #26 on the Beatport Glitch-Hop Top 100 Charts and the track "Winnipeg Handshake" peaked at #70 on the Beatport Glitch-Hop Top 100 Charts. The Leaurentian Plateau EP was also a Featured New Release on Beatport's Glitch Hop Section. Later this year a second EP and remixes are coming out on Adapted Records. He also appeared last year on Enig'Matik Record's epic compilation "Painting Pictures on Silence Vol 2″ and released a well received first EP "Everything Started to Go Apart EP". Chris Komus has also released on 3l3Mental Records, Betamorph Recordings, Monkey Dub Recordings, Sundance Records, Noitekk, Communique, and more.
Chris Komus is emerging on the festival circuit with performances at festivals such as Shambhala Music Festival, Burning Man, Motion Notion, Envision Fest in Costa Rica, Connect Festival, and Entheos Gathering as well as an Australian tour in the tail end of 2011 with performances in Queensland, New South Wales, and Victoria in addition to performing in Costa Rica in 2013. He has also performed in cities across Canada and appeared in the US!
More than just a producer and performer, Chris Komus is also involved in pushing the psychedelic and bass sounds in Central Canada as co-promoter and resident of Winnipeg Psychedelic Productions and BassFace Entertainment.